Skip to Content
Environmental Cleanup Specialists in Northern, CA
We'll Help You Clean After an Accident
Many industries handle hazardous chemicals and other harmful substances on a daily basis. As the business owner or company manager, it's your job to ensure these hazardous wastes are treated with care and disposed of safely. Unfortunately, accidents and spills can occur, leaving you, your team, and the surrounding area exposed to dangerous materials. When a situation like this happens, it's imperative you call in a licensed and trained professional to complete the cleanup. CG Environmental will perform hazardous material cleanup throughout northern California. Additionally, we are the proud owner of "The Annihilator," a turn-key piece of machine that helps us to increase our efficiency, speed, and cleanliness. Please reach out to us if you need assistance, day or night.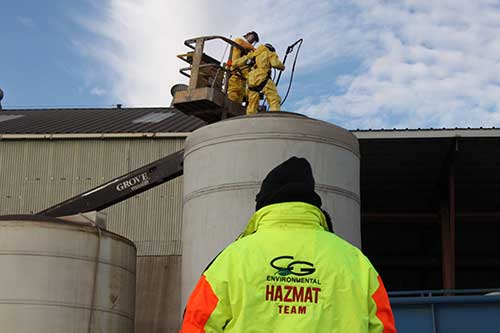 We Offer Complete Environmental Cleanup Services
When disaster strikes at your industrial or commercial site, you don't have time to waste. The quicker you respond to the event by contacting us, we will be able to contain the potentially harmful effects. CG Environmental provides comprehensive cleanup services, taking charge of the cleanup from start to finish. Our team provides quick response to stop the spread of the event, clean up any harmful materials, and return the surrounding environment to a healthy state using our environmental remediation techniques. We can handle any environmental cleanup project, including decontamination to prevent the spread of viruses like Ebola and coronavirus. You can count on us to use our advanced equipment to produce the results you need.
Why Hire a Professional Cleanup Crew?
Biohazardous materials can put everyone nearby at risk and potentially damage the environment. Because these substances are so harmful, they must be treated with care and attention to detail so as not to make the problem worse. That's why it's so important to allow a professional cleanup crew to handle the job, rather than attempting to do it on your own. Hiring a professional team will ensure:
Experience & Expertise: Without proper hazardous material and biohazard experience, you may end up disposing of harmful materials incorrectly or illegally, which could get your company into trouble.
Proper Equipment: We are equipped with state-of-the-art equipment to protect our workers and ensure all hazardous materials are cleaned up safely and effectively.
Peace of Mind: When you hire a professional team, you'll have peace of mind that your cleanup was completed successfully. You can return to work without the fear of exposing your workers to hazardous waste.
Call Our Emergency Response Team
At CG Environmental, we understand that biohazard events can occur at any time, which is why we provide emergency response for all biohazard and hazmat cleanups. We know that these events require immediate attention. We'll work quickly to dispatch a team, assess the situation, and begin providing cleanup services. Please contact us today if you need a cleanup crew at your facility or job site.
Sacramento, CA 95826, USA