Skip to Content
CG Environmental Offers COVID-19 Mitigation in Texas, Colorado, Missouri, Oklahoma and Neighboring States
Our Cleaning Guys Answer Questions About COVID-19 Disinfecting
CG Environmental – The Cleaning Guys has been providing COVID-19 mitigation services in Texas, Colorado, Missouri, Oklahoma and neighboring states since the global pandemic started. And they mitigated the Ebola crises in Dallas, many years prior.  Reach out to us to request a free estimate for our COVID-19 mitigation services at any time.
What Industries Could Use Professional Coronavirus Sanitizing?
The global pandemic has illustrated the need for deep sanitization of shared spaces to prevent the risk of contamination. CG Environmental – The Cleaning Guys has provided professional coronavirus sanitizing services for a variety of industries across Texas, Colorado, Missouri, Oklahoma and neighboring states, including the following: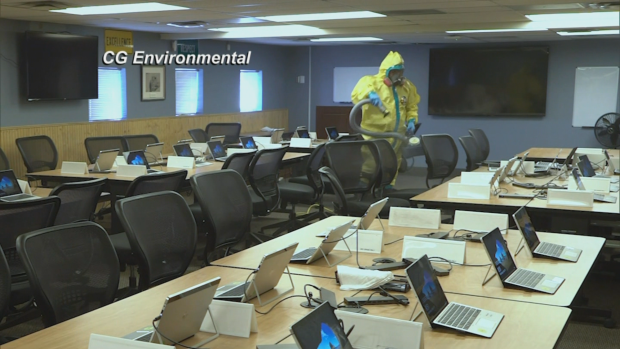 Industrial Facilities
Restaurants
Bars
Hotels
Theaters
Gyms
Daycares
Schools
Universities
Cafeterias
Recreation centers
Retail stores
Warehouses
Government buildings
Public transportation vehicles and centers
Commercial offices
Apartment buildings
Homes
What's Included in Our COVID-19 Mitigation Services?
If your residential, commercial, or industrial building could benefit from COVID-19 mitigation services, we can customize a sanitizing schedule to reflect your needs. While you could buy disinfecting spray and wipe everything down on your own, chances are, you're bound to miss some surfaces, or merely smear the virus. .  Just wiping down surfaces cleans only square footage.  Our atomizer system treats all cubic feet in a facility by cleaning all surface areas as well as airborne biohazards. There's no substitute for a thorough, professional deep cleaning with our fogging technology that gets into every nook and cranny of your facility, including the airspace, kitchens, breakrooms, washrooms, hallways, lobbies, meeting rooms, staircases, elevators, escalators, and more. Our experienced team will ensure all shared spaces and surfaces that are touched regularly by employees or customers have been cleaned and disinfected, including all of the following: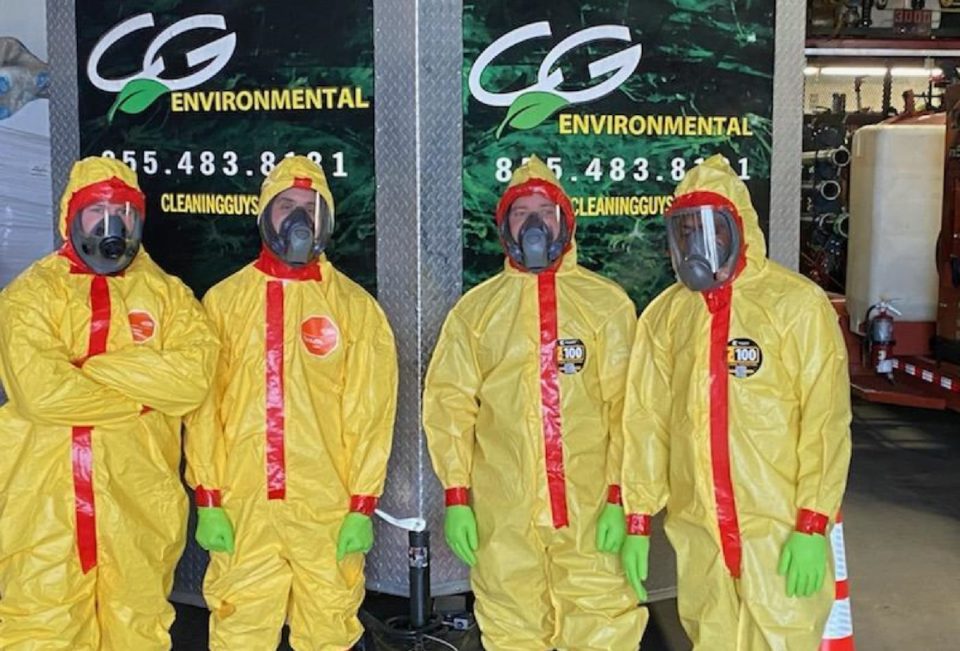 Door handles
Elevator buttons
Handrails on stairs
Light switches
Locks and keys
Floors
Sinks
Faucets
Toilets
Tables and chairs
Counters
Appliances
Office equipment (computers, keyboards, telephones, printers, scanners, etc.)
Why Choose CG Environmental – The Cleaning Guys?
Since 1992, many companies have relied on us for quick and effective emergency spill responses, biohazard cleaning services, asbestos removal, soil remediation, environmental assessments, hazardous and non-hazardous waste transportation and removal, and more. We've made it our specialty to handle even the toughest cleaning jobs that others would deem impossible. Our team can also help you take proactive measures to mitigate the potential impact of virus outbreaks such as COVID-19, Ebola, or the flu. From natural disaster responses and crime scene cleanups to bloodborne pathogen cleanup and containment services, we're equipped to handle any scenario. Our COVID-19 mitigation services in Texas and Colorado are available around the clock, even overnight, while your commercial or industrial facility is empty. Contact us today to request a free estimate for our comprehensive cleaning services!