Skip to Content
Dry Ice Blasting Services in TX, CO, MO, OK, AR, KS and Surrounding Regions
Call CG Environmental The Cleaning Guys for Dry Ice Blasting
CG Environmental The Cleaning Guys provides professional waste management and cleanup services, including dry ice blasting throughout Texas, Colorado, Missouri, Oklahoma, Arkansas, Kansas and surrounding regions. This modern and environmentally friendly method of cleaning can be used in a variety of general maintenance applications. Since 1992, CG Environmental has become known for our quick responses to cleaning needs with years of experience and safe practices brought to every job. When you need paint, rust, or other materials cleaned off surfaces, don't rely on outdated sandblasting or soda blasting methods. Contact us for dry ice blasting for impeccable results.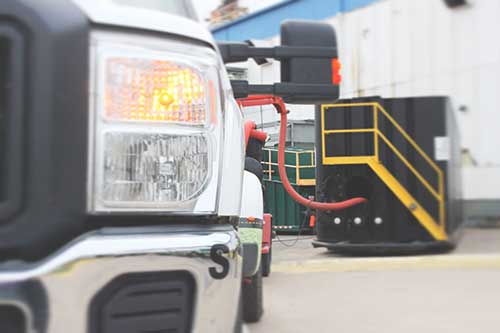 What is Dry Ice Blasting?
Media blasting is a standard cleaning practice where solid materials are used in a pressurized stream to act as a cleaning agent to remove materials from a specific surface. Common methods include sandblasting, soda blasting, and plastic bead blasting. These materials add some extra elbow grease to wipe away substances such as paint or rust. Dry ice is a solidified form of carbon dioxide and is used in place of abrasive substances such as sand and plastic beads. This method is safer as it reduces exposure to employees and is approved by the Environmental Protection Agency (EPA), Food and Drug Administration (FDA), and United States Department of Agriculture (USDA). Since dry ice returns to its gaseous state on impact, there is no additional waste created during the process that requires extra cleanup, unlike other blasting methods.
Common Uses for Dry Ice Blasting
With dry ice's cleaning strength and environmental friendliness, it is the ideal cleaning solution across just about all industries. Most commercial and manufacturing settings benefit from dry ice blasting equipment methods because it doesn't require manual scrubbing or chemical cleaning agents. Common uses for dry ice blasting include:
Disaster Remediation – Dry ice effectively cleans damage from mold, smoke, fire, and water.
Food Processing Plants – Processing and preparation equipment benefit from dry ice blasting without exposing food surfaces to harmful chemicals while eliminating germs and bacteria.
Metalworking – Tools, equipment, pipes, and more can all be safely cleaned, deburred, and deflashed.
Historic Artifact Preservation – The non-abrasive cleaning action and elimination of chemicals make it the perfect choice to thoroughly clean without damaging historical items.
Aerospace Equipment – Cleans turbine blades, hydraulics, landing gear, and electrical equipment.
Automotive – Used to clean undercarriages, engine blocks, wheels, production equipment, and more.
Benefits of Choosing Dry Ice Blasting from CG Environmental
Our team specializes in emergency response and cleanup services that provide peace of mind for businesses throughout Texas, Colorado, Missouri, Oklahoma, Arkansas, Kansas and surrounding regions. Our cutting-edge processes are safe, thorough, and ensure reliable results. Our dry ice blasting offers many benefits, such as:
Significant savings on labor
No health risks to employees
It's not reliant on chemical cleaners
It extends the life of your equipment
Dry ice is not abrasive yet cleans effectively
Cleans oils, adhesives, resin, paint, grease, tar, and biofilms
When You Need It Clean, Call CG Environmental
CG Environmental The Cleaning Guys has the proper dry ice blasting machines to carefully clean any surface with environmentally friendly and non-abrasive techniques throughout Texas, Colorado, Missouri, Oklahoma, Arkansas, Kansas and surrounding regions. For service and experience that's unmatched, contact our team for dry ice blasting today.