Skip to Content
Reliable Industrial Cleaning for Texas, Colorado, Missouri, Oklahoma, Arkansas and Kansas Businesses
Discover CG Environmental's "Green and Clean" Program
At CG Environmental – The Cleaning Guys, we refer to our industrial cleaning program in Texas, Colorado, Missouri, Oklahoma, Arkansas, Kansas and surrounding regions as "Green and Clean." For a competitive price, our team will offer a customized cleaning solution using state-of-the-art equipment to minimize disruption to your daily operations. Our many years of experience cleaning hard surfaces in any industrial or commercial setting has allowed us to prove ourselves time and time again. We clean areas that were once regarded as impossible, problematic, or unsafe. You can rely on our team and technical knowledge for thorough biohazard cleanup and decontamination services for your business, hospital, factory, or warehouse. Reach out today to request a free estimate!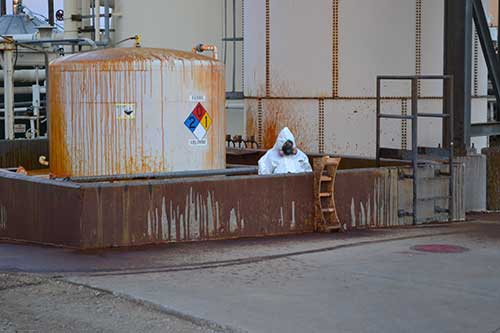 Thorough Biohazard Cleanup and Decontamination Services
The CG Environmental – The Cleaning Guys team can clean virtually any hard surface, reducing the environmental impact and potential safety hazards for your employees and visitors. Our industrial cleaning program can be built to service all types of businesses, including hospitals, factories, warehouses, solid waste enclosures, service stations, fuel islands, and more. We offer full project management support and programs that vary in service intervals, best practices recommendations, and turnkey solutions. Our biohazard cleanup and decontamination services include, but are not limited to, the following:
Ebola, coronavirus, and other infectious diseases cleanup
Contamination spills
Tank removal/underground storage tanks (USTs)
Bloodborne pathogens/communicable disease cleanup and containment
Accidental death, suicide, and decomposition cleanup
Homicide/crime scene cleanup
Accident or injury cleanup
Building, facility, and office decontamination
Maintain a Safe Workplace at Your Factory or Warehouse
Whether you manage a small production facility with a handful of employees or a large industrial warehouse with hundreds of employees, you can benefit from our industrial cleaning solutions. Factory and warehouse equipment and floors can get dusty and residue-covered from daily usage, resulting in slip-and-falls, dust particles in the air, clogged equipment and costly unscheduled repairs, and an increased risk for workplace accidents and injuries. You need your facilities and equipment to be clean for your employees' safety, but cleaning time can also cut into your employees' productivity.
Relying on CG Environmental – The Cleaning Guys for factory and warehouse cleaning is in your best interest because we can ensure your workplace stays clean and safe with well-maintained equipment without shutting down your production lines. Our team works around the clock to find a convenient time that works for your production schedule, so we won't have to interrupt operations for cleaning. From one-time and emergency biohazard cleanups to regular industrial cleaning every month, we can customize our services according to your preferences. You'll get peace of mind when you entrust your warehouse and factory cleaning needs to us, knowing that you've reduced your risk for machinery malfunctions and workplace accidents and injuries.
Rely on Our Hospital Cleaning & Biohazard Cleanup Expertise
Hospitals and healthcare facilities have a duty to maintain excellent housekeeping systems to keep their patients, staff, and visitors safe. People come to your facility for medical treatment and a safe, clean place to rest while they heal. Hiring an industrial cleaning company with extensive hospital cleaning and biohazard cleanup experience is essential. Our team is knowledgeable about the cleaning chemicals necessary to disinfect and decontaminate various surfaces throughout your facility to reduce the risk of spreading infections, germs, pathogens, viruses, and more. From cleaning hallways, bathrooms, and waiting rooms to operating rooms and patient rooms, we'll leave no stone unturned with our thorough hospital cleaning services. Having a clean, safe hospital reassures your patients and their visitors that they chose the right healthcare provider. It also keeps your hospital staff happy and healthy in a positive work environment, so they can focus their attention on making your patients feel the same way.
Why Choose CG Environmental – The Cleaning Guys?
Since 1992, CG Environmental – The Cleaning Guys has built an excellent reputation for comprehensive industrial cleaning solutions. Our business began in Texas and quickly expanded to include satisfied customers throughout Colorado, Missouri, Oklahoma, Arkansas, Kansas and surrounding regions. You can rely on our three decades of experience and state-of-the-art proprietary equipment and techniques to provide you with unparalleled service that will save you time and money. All of our employees receive initial and ongoing training to ensure they're ahead of the curve with the best cleaning and disinfecting practices. Contact us today to learn more about our industrial cleaning services or to request a free estimate.
Get Your Free Estimate Today!
24-Hour Response