Skip to Content
Non-Haz/Hazardous Waste FAQ
Haz/Non-Haz Waste Services in Texas, Colorado, Oklahoma, & Missouri
In San Antonio, Dallas, Fort Worth, Houston, Austin, and nearby Texas areas, as well as nearby Colorado, Oklahoma, and Missouri communities, you can now find the top hazardous trash removal services provider. The staff at CG Environmental has the training and tools required to clean up both hazardous and nonhazardous trash at your location. Your property will be cleaned up fast and thoroughly thanks to our on-site service, profiling, and home hazardous waste services. Contact us as soon as possible to request a free estimate and to learn more about our services.
Read about the most frequently asked questions surrounding hazardous and nonhazardous waste cleanup services.
Hazardous or nonhazardous?
Determine whether the waste you have on hand is indeed nonhazardous before your organization starts regulated nonhazardous waste disposal procedures.
There are several methods to do this, but the first is to recognize the waste you already have. Make a list of these things after looking at the waste's composition and reading the labels of any solutions it came into touch with.
From there, you can check the Code of Federal Regulations to determine if your waste item as a whole—or any of its component parts—is listed as hazardous or nonhazardous waste. Your business trash will often be classified as hazardous waste if it exhibits properties like toxicity, corrosivity, reactivity, or ignitability. However, you should also verify that list because there could be certain exceptions.
What universal waste removal services do you offer?
Universal trash disposal prevents many businesses from receiving a prompt answer and guaranteeing complete compliance with all local, state, and federal standards. Fortunately, CG Environmental provides top-notch universal waste management options that can lower your long-term responsibility and save you money in the long run.
Mercury-containing pesticides and herbicides
Lightbulbs and associated equipment
Paint, regardless of the material
Thermostats
Batteries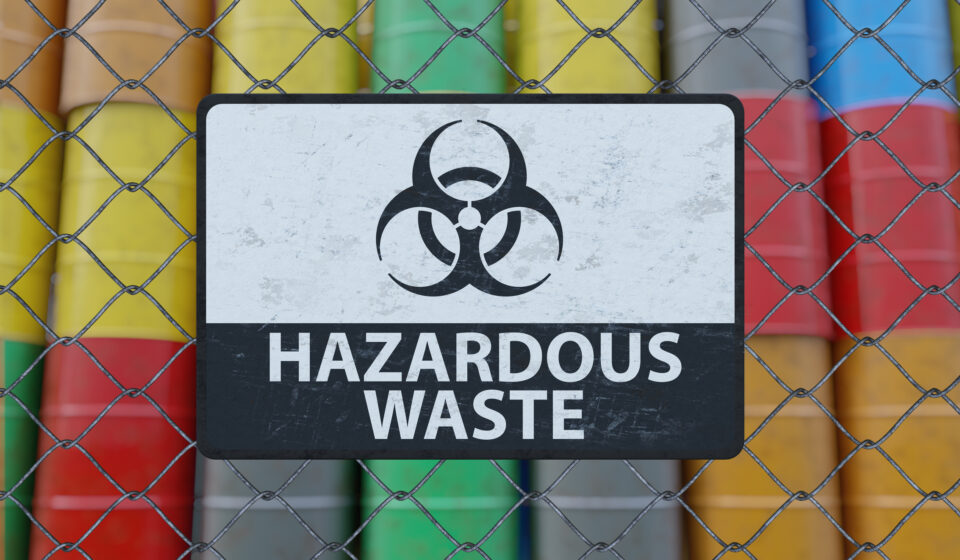 What types of waste do you handle?
We handle, clean, dispose of, and transport all types of hazardous and nonhazardous waste. Some of these include:
Flammable liquids
Sludge
Corrosive materials
Reactive
Cleaning solutions
Acids
Caustics
Toxic metals
Contaminated soil
Plating solutions
What type of waste removal services do you offer?
We are able to remove any kind of waste made of any material securely and effectively by making sure that our waste cleanup equipment receives the required maintenance and upgrading them to comply with the most recent laws. Here are a few of the ways we consistently deliver the best cleanup services:
Vacuum Trucks
Whether the material is wet or dry, our vacuum trucks can handle it. These vehicles, which are outfitted with top-notch pumps, can clean up liquid spills and sludge as well as provide oil/water separation services. Our equipment enables us to extract every drop of trash, whether it is underground, in a drum, or another small area.
Recovery Trucks
We can safely inspect any catastrophe scene and find machines and salvageable parts thanks to our recovery vehicles. Reclaimable items from your catastrophe scene can be cleaned and transported safely by our team. By doing this, we're also able to keep as much of your original things as we can while lowering your recovery expenditures.
Fuel Spills
On-site industrial waste cleaning services that adhere to HAZMAT and industry regulations are frequently requested from CG Environmental – The Cleaning Guys. Oil and petroleum spills, including those involving gasoline, diesel, and other dangerous byproducts, may be cleaned up by us. Including those involving sewage treatment and polluted water or soil, we can also clean up industrial waste spills of all sizes. You may count on our more than 30 years of experience to complete the task in a safe and efficient manner!
What is Waste Profiling?
One of the most crucial services we provide is trash profiling, which makes sure businesses adhere to federal requirements for the disposal of hazardous waste. We provide profiling services to local landfills, so they are aware of the sorts of garbage they are getting and how to manage it. In some situations, breaking federal regulations might get your business in legal trouble and subject it to criminal prosecution. Avoid putting yourself at needless risk. Count on our experienced team to profile your waste stream with attention to detail and accuracy.
What is a lab pack?
Several establishments, including labs, hospitals, and schools, employ certain chemicals sparingly (usually less than 10 gallons of each). Unless the handler is an expert chemist with knowledge of hazardous waste laws and regulations, it is impossible to mix these minuscule amounts of chemicals safely.
Lab packing includes:
Categorizing and separating the small containers of chemicals
Putting the lab packs in bigger, authorized barrels for hazardous trash.
Overpacking of bigger drums of waste that are leaking or of low quality.
Prepping the drums for disposal and shipment by labeling them.
Preparing manifests for hazardous trash.
What waste hauling services do you provide?
We take great pride in offering our clients complete rubbish hauling services. Waste management is a challenging procedure that calls for meticulous attention to detail, top-notch tools, and extensive expertise. There are several services that we provide for our clients, including:
Containerizing
When we have sampled and profiled the trash, we put safety first, and one of the first things we do is containerize. Containerized garbage collection considers a variety of considerations, including if any discovered characteristics might deteriorate the containers containing it. We make use of our knowledge to guarantee dependable and safe transportation.
Manifesting and Labeling
One of our greatest assets is our keen attention to detail. During garbage transportation and disposal, it is essential to properly mark every material and component, especially if we are moving hazardous waste. We reduce hazards to almost nil by exercising diligence and making sure that our manifests and labels are unambiguous. Our consumers will benefit from a more effective, secure, and affordable experience as a consequence.
Transportation
Given the variety of products we carry, having a large selection of vehicles and equipment at our disposal is crucial. For instance, roll-off trucks with certain asbestos-containing qualities are needed to handle the transportation and disposal of asbestos material. When transporting other hazardous liquids or solids, further safety measures are required.
Disposal
The U.S. government controls where particular garbage categories go. Our clients feel confident in putting their faith in us to clean up spills and remove dangerous items since we are up to speed on all current legislation. Everything from leftover building supplies to dangerous items may be disposed of properly and safely with the help of our staff.
Call Today for Your Free Quote
You can't go wrong with CG Environmental – The Cleaning Guys if you need a hazardous waste disposal service. We have made it a point to clean up after ourselves in accordance with industry norms ever since 1992. We provide our services to clients throughout Texas, Colorado, Oklahoma, Missouri, and the surrounding areas. Request a free quotation from us today to put our decades of experience to work for you!