Skip to Content
Professional Field Services in Texas, Colorado, Missouri, Oklahoma, Arkansas, Kansas and Surrounding Regions
Nationwide Emergency Cleanup Services
CG Environmental's Field Services Program is designed to be your single-source service provider for emergency cleanup services of hazardous and nonhazardous materials.
A quick response can make all the difference in whether an emergency ends up being a minor annoyance or a complete disaster. When you work with CG Environmental, you'll get a free estimate of your service costs and site response within 24 hours in San Antonio, Dallas, Fort Worth, Houston, Austin, and surrounding communities in Texas, as well as Colorado, Missouri, Oklahoma, Arkansas, Kansas and surrounding regions. Our teams receive ongoing education on safe material handling, proper operation of new and established cleanup equipment, and customer service skills to provide every client with amazing service from every angle.
The best response to emergency cleanup projects
Our talented crews provide the services you need regardless of spill size or material. We are HAZWOPER-certified to ensure we can help you with any request. Whether someone accidentally punctured a waste-holding tank or a natural disaster destroyed half your factory, we can help you pick up the pieces and get back to normal operations fast.
Services that outperform the competitors
With the urgency from our emergency response program and the attention to detail from our confined space ops, our Field Services Program continues to surpass the quality of our competitors' work on a daily basis. We take care of you from every angle by getting you the highest quality services at the best prices.
Integrity
We treat our customers the same way we'd want to be treated. We'll never trick you into getting services you don't need, and we promise to always give you the best, most reliable consultations for your cleanup job.
Professionalism
We value a professional workplace and employees who understand their jobs and use proper etiquette when working on your site. From project management to simple interactions, we always provide the best customer service.
Skill
We are constantly educating our teams on safety protocols and proper machine operation. With a rigorous training regimen and educated supervisors, we're able to ensure every job gets done quickly, affordably, and correctly.
"1 Truck – 1 Team – 1 Call"
Our Field Services Program slogan demonstrates our dedication to providing comprehensive, accessible cleanup services for anyone in need. We offer a variety of cleanup services.
Our most popular services include:
Vacuum truck services for pumping out materials—wet or dry, hazardous or nonhazardous
Hydro-excavation for safe, affordable soil excavation with no risk of utility damage
Remediation services for removing pollution and contaminants from environmental surfaces
Confined space operations to respond to emergencies in any environment
But that's not all. We also offer several other field services to react to any and all emergencies, including:
Industrial cleaning and maintenance to keep your factory up to code
Recovery trucks to reclaim salvageable materials from cleanup sites
Commercial facilities response to react to any emergency or request in any location
Our team of technicians receives intensive training regarding safety operations and project management, meaning they are able to handle your request with the utmost efficiency in time, money, and resources.
Get your free estimate for emergency cleanup services today!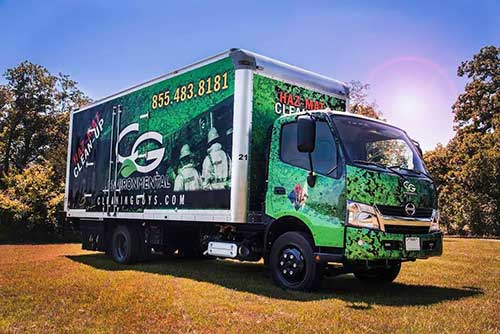 Our Scheduled and Emergency Field Services
Get Your Free Estimate Today!
24-Hour Response