Skip to Content
Expert Soil Remediation Services in Texas and Colorado
Environmental Cleanup for Texas, Colorado, Missouri, Oklahoma, Arkansas, Kansas and Surrounding Regions
Hazardous substances can leave an area uninhabitable for years to come. Soil remediation is required any time soil has been impacted by a contaminant as a result of an oil spill, roadway accident, tank release, or manufacturing process. Whether on the roadway or on location, CG Environmental – The Cleaning Guys can return the site to pre-spill conditions with our pollution and environmental cleanup services in San Antonio, Dallas, Fort Worth, Houston, Austin, and surrounding communities in Texas, as well as Colorado, Missouri, Oklahoma, Arkansas, Kansas and surrounding regions. Our expert soil remediation services include soil assessment, screening, sample collection and analysis, treatment, waste profile and manifest, removal, transport, and disposal of contaminated soil. Because we understand time is of the essence when it comes to environmental cleanup, our professional cleaners offer 24-hour emergency services with an average one-hour response time in many cases. Please contact us today for a free estimate for soil remediation. You can count on us to help you restore your site to pre-spill conditions!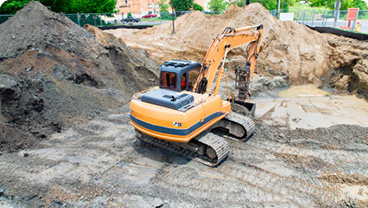 Soil Assessment & Screening to Determine Soil Contaminants
Soil assessment and screening are the first steps in the soil remediation process at CG Environmental – The Cleaning Guys. Healthy soil contains organic matter (both living and dead), as well as at least trace amounts of many elements, including nitrogen, phosphorus, potassium, sulfur, magnesium, and calcium. Whether caused by a biohazardous spill, pollution, or the manufacturing process, contaminated soil is harmful to the environment. Contaminated soil may contain a buildup of chemicals, toxic compounds, radioactive materials, or disease-causing agents, all of which affect the health and well-being of plant, animal, and human life in the vicinity. If you suspect you have contaminated soil on your property, a soil assessment is necessary to make sure. A soil assessment analyzes the components of your soil to determine if any pollutants are present. Once we've gathered this information, other actions may be required. Soil screening is the process of removing visible contaminants from the soil and assessing it for other chemical contaminants, many of which are often byproducts of hazardous waste or pollution.
How the Soil Sample Collection and Analysis Process Works
In addition to our soil assessment and screening services, we often provide soil sample collection and analysis. Because it's not possible to test all of the soil at once, we'll take what's called a composite sample. Whether we're collecting a soil sample for a residential, commercial, or industrial property, we'll randomly select different locations on the property, collect soil samples, and send them back to our laboratory for analysis. This will give you an estimate on your soil's health and fertility, as well as alert you of the estimated level of contaminants present in your soil.
Contaminated Soil Treatment Options to Restore Soil Health
If we find contaminated soil on your property, we offer various soil treatment options. Soil with lower levels of contaminants may be a good candidate for bioremediation. During this process, we'll introduce certain microorganisms into the contaminated soil along with nutrients to help stimulate growth while the microorganisms break down the contaminants naturally. Soil with higher levels of pollutants may require a chemical soil remediation process, which involves treating the soil with chemical additives. Occasionally, contaminated soil may need to be segregated or removed to preserve the remaining soil.
Contaminated Soil Removal, Transport, and Disposal Services
Sometimes your best option for treating contaminated soil is to eradicate it from the site. We usually recommend this approach if the contaminated soil is near the surface or if we're dealing with smaller volumes of impacted soil. CG Environmental – The Cleaning Guys is experienced with contaminated soil removal, transport, and disposal in Texas, Colorado, Missouri, Oklahoma, Arkansas, Kansas and surrounding regions for your peace of mind and safety. It's all part of our emergency response to biohazard and pollution cleanup efforts in our communities.
Thorough Hazardous Waste Profile and Manifest Reporting
When contaminated soil removal is necessary, we also provide a hazardous waste profile and manifest reporting to track the removal and disposal process. Any time hazardous waste is being transported, a Uniform Hazardous Waste Manifest is required per the Environmental Protection Agency's guidelines. This manifest report will include information regarding the type and quantity of waste being transported and any special instructions for how it must be handled. You can count on our many years of expertise to ensure the accuracy of the information contained in your hazardous waste manifest.
Contact Us with Any Soil Remediation Questions or Concerns
Do you have questions or concerns regarding our soil remediation or environmental cleanup services in Texas, Colorado, Missouri, Oklahoma, Arkansas, Kansas and surrounding regions? Please contact CG Environmental – The Cleaning Guys to request more information or a free estimate. You may also view our testimonials to put your mind at ease!
Get Your Free Estimate Today!
24-Hour Response