Skip to Content
Safe and Reliable Waste Hauling in Texas, Colorado, Oklahoma, Missouri and Surrounding Regions
Trust Our Dependable, Safe Waste Hauling
Waste hauling is a complicated task requiring an exhaustive collection of materials and equipment. At CG Environmental, we have everything we need to successful haul waste of all kinds. Our team's combined experience and expertise contribute to our track record of excellence. And, our tankers, tractors, fiberglass-reinforced tankers, roll-offs, and other equipment gives us the means to provide our exceptional service. We understand how crucial efficiency is when responding to a waste disposal situation – whether toxic or not. Our company provides the following benefits:
We Are Certified in the Disposal of Hazardous Waste: Unlike routine junk removal, hazardous waste disposal requires a little more discipline. Our innovative approach allows us to help customers comply with municipal, state, and federal regulations and laws. Most importantly, hiring CG Environmental keeps employees, customers, and products safe.
We Handle the Disposal of Asbestos Waste: Asbestos is an extremely poisonous and dangerous carcinogenic mineral linked to cancer. Before studies demonstrated how harmful it is, contractors and builders used asbestos in thousands of building goods and consumer materials. Today, the U.S. Government regulates and sometimes bans asbestos. We take care of handling and transporting asbestos in bulk.
What Waste Hauling Services Do You Provide?
We are proud to deliver comprehensive waste hauling services to our customers. Waste disposal management is a complicated process requiring attention to detail, high-quality equipment, and plenty of experience. CG Environmental has all three in spades. We approach each case on an individualized basis, taking the time to survey the site. Doing so enables our team to pinpoint what we need to do to resolve the issue. Our waste hauling services include each of the following essential phases:
Sampling and Profiling: Before we can dispose of any waste, we must determine whether it is hazardous and what operating procedures to follow. Our sampling methods determine what we are dealing with and give us a roadmap for success, as does profiling. By taking the time to complete these two steps, we ensure we dispose of potentially harmful materials within all regulatory guidelines. Our compliance is to your benefit.
Containerizing: Safety is our priority, and containerizing is one of the first places we start once we have sampled and profiled the waste. Containerized waste collection takes numerous factors into account, including whether properties found would degrade the containers holding it. We use our expertise to ensure transportation is safe and reliable.
Manifesting and Labeling: Attention-to-detail is one of our biggest strengths. It is critical to accurately label every material and component during waste hauling and disposal, especially if we are transporting hazardous waste. By being diligent and ensuring our manifests and labels are clear, we minimize risks to near-zero. The result is a more efficient, safer, and cheaper experience for our customers.
Transportation: We have a wide range of trucks and equipment at our disposal, which is essential considering the wide range of materials we transport. For instance, handling the transportation and disposal of asbestos waste requires roll-off trucks with select asbestos-containing properties. Other hazardous liquids or solids need additional precautions during the transport process.
Disposal: The U.S. Government regulates where specific categories of waste go. We are up-to-date on all current laws, so our clients feel comfortable trusting us to clean up spills and extract hazardous materials. Our team knows how and where to dispose of everything from unused construction materials to hazardous materials.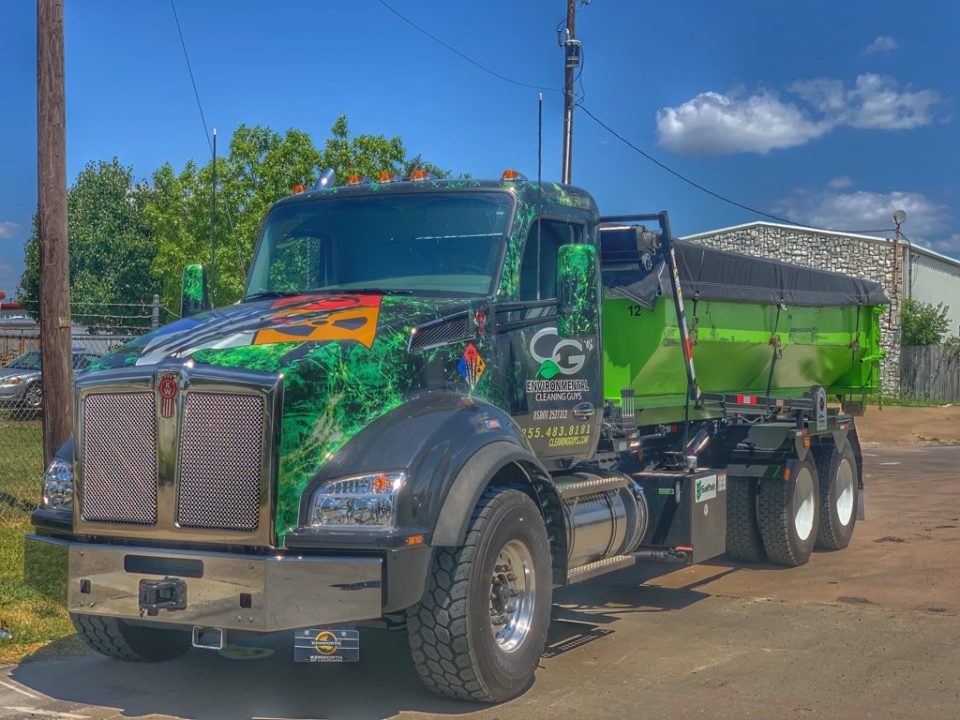 Why Working With CG Environmental Makes Sense
There is no room for error when transporting and disposing of hazardous and non-hazardous waste. Companies in all industries are responsible to their shareholders and clients, and disposing of the waste is a significant obligation. It is imperative to partner with an experienced and qualified waste hauling specialist. CG Environmental arrives on-site with up-to-date permits and certifications. Our expertise means industrial and commercial clients trust us in a vast area. In addition to DFW, we provide service in Texas, Colorado, Oklahoma, Missouri and surrounding regions. We can adjust to all local regulations specific to these regions, which is a significant advantage. Over the years, we have built on our reputation one satisfied customer at a time. For superior waste hauling services, there is no better option than CG Environmental – Cleaning Guys. Contact us today to get started. We will arrive on-site and begin cleaning the spill.
Get Your Free Estimate Today!
24-Hour Response