Skip to Content
Full Spectrum Equipment
CG Environmental's powerful industrial vacuum equipment is designed to handle a full spectrum of vacuum needs within a broad range of industries. Our team and equipment can handle any industrial vacuuming application. Our filtration systems provide quick, clean and thorough results with maximum efficiency and effectiveness. CG can pump out liquids, sludge, and solids at your commercial or industrial facilities. Extensively trained experts will collect and ensure the proper disposal of all waste materials while staying in compliance with all local, state and federal regulations.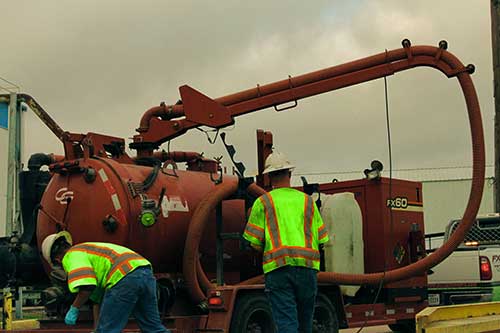 Some of Our Vac Truck Services Are
Oil Water Separator Service
 Drain, Sump, Pit and Trench Clean Out
 Sand Trap / Grit Trap Service
 Hazardous / Non-Hazardous Liquids and Sludge Disposal
 Bobtail and Transport Capabilities
 Tank Wash Down Ability
 Equipped With a 1000CFM Pump, to Allow Suction From Long Distances
Get Your Free Estimate Today!
24-Hour Response