Skip to Content
Effective Vac Truck Services in Texas, Colorado, Oklahoma, Missouri and Surrounding Regions
Completing Environmental Cleanup with Our Vac Truck
Sometimes it takes more than manual labor to remove waste from a contaminated area. You can't expect to effectively clean an area by scooping out waste using shovels and other hand-held tools. Sometimes you have to call for some backup. A vacuum truck will be able to achieve what a crew of workers can't, effectively cleaning out every nook and cranny, collecting the waste, and driving it off-site to dispose of it. CG Environmental Cleaning Guys is here to provide this service when you need it. Whether you are cleaning out a bing or cleaning up a spill, our vacuum truck is capable of completing the job. Contact us today to learn more about our vacuum truck services in Texas, Colorado, Oklahoma, Missouri and surrounding regions.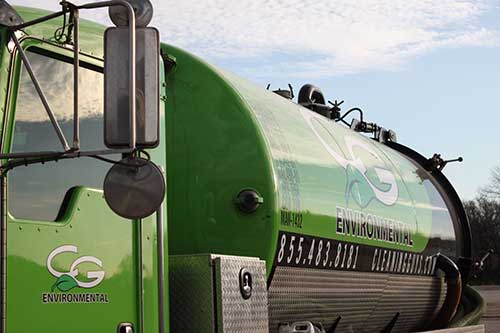 How Does a Vacuum Truck Work?
A vacuum truck consists of a large vacuum tank that is mounted onto a truck bed. It works much the same as any standard shop vac only on a much larger scale obviously. A powerful pump works to remove air from inside the holding tank, creating a vacuum. When the valves are opened on the suction hose, the tank attempts to equalize the pressure inside, creating suction in the hose, which effectively sucks up any liquids, sludges or debris near the hose. The material sucked into the hose is then deposited into the tank and can then be carried away from the site and properly disposed of.
Our Vacuum Truck is Equipped to Handle Many Jobs
The biggest advantage of vacuum trucks is they can be used to clean up all kinds of waste, whether hazardous or not. From liquids and solids to slurries and sludges, our vacuum trucks are equipped to handle all waste. Our team is available to complete routine cleanouts, tank cleaning, spill cleanups, pit cleaning, and many other environmental cleanup projects. You can count on us to deliver superior service in Texas, Colorado, Oklahoma, Missouri and surrounding regions due to our highly trained staff and advanced equipment. Our vac trucks are able to complete all of the following services:
Oil-water separator service
Drain, sump, pit, and trench cleanout
Sand trap and grit trap service
Hazardous and non-hazardous liquids and sludge disposal
Bobtail and transport capabilities
Tank wash down ability
Equipped with a 1000 CFM pump, to allow suction from long distances
Full-Spectrum Equipment
At CG Environmental Cleaning Guys, we have powerful industrial vacuum equipment designed to handle a full-spectrum of vacuum needs within a broad range of industries. We can handle any industrial vacuuming application. Every vacuum truck in our fleet is equipped with a filtration system that provides quick, clean, and thorough results with maximum efficiency and effectiveness. Our expert team combined with our top-notch equipment is able to pump out liquids, sludge, and solids on location at your commercial or industrial facility. Once the waste is collected, our extensively trained team will ensure the proper disposal of all waste materials, making sure to comply with all local, state, and federal regulations.
Why Choose Us for Vacuum Truck Services
When you're dealing with a project as important as proper waste disposal, you need a team you can trust on the job. CG Environmental Cleaning Guys and their fleet of hydro-vac trucks is the right choice to take on any cleanup project. Our trucks help complete both non-hazardous and hazardous waste disposal in Texas, Colorado, Oklahoma, Missouri and surrounding regions. A vacuum truck will ensure your area is fully cleaned. Not to mention, it reduces the need for personnel for cleanup jobs. All factors of the process are better controlled, and with fewer people on the job, this means less risk for injury. Vacuum truck services are the best choice for your cleanup job, and our team is the best option for all of the following reasons:
Trained Professionals: Our equipment operators are fully trained in all local, state, and federal regulations, ensuring your cleanup follows all necessary protocols.
Advanced Equipment: Our team is outfitted with industry-leading vacuum equipment that can transport both hazardous and non-hazardous waste.
Emergency Response: We're here to respond to your site as soon as possible in emergencies. If you've had a chemical spill or sewage leak, we'll work quickly to contain the issue.
Reporting: Our team is experienced at completing facility paperwork and can provide job summary sheets for accurate reporting of any spills and cleanup services completed.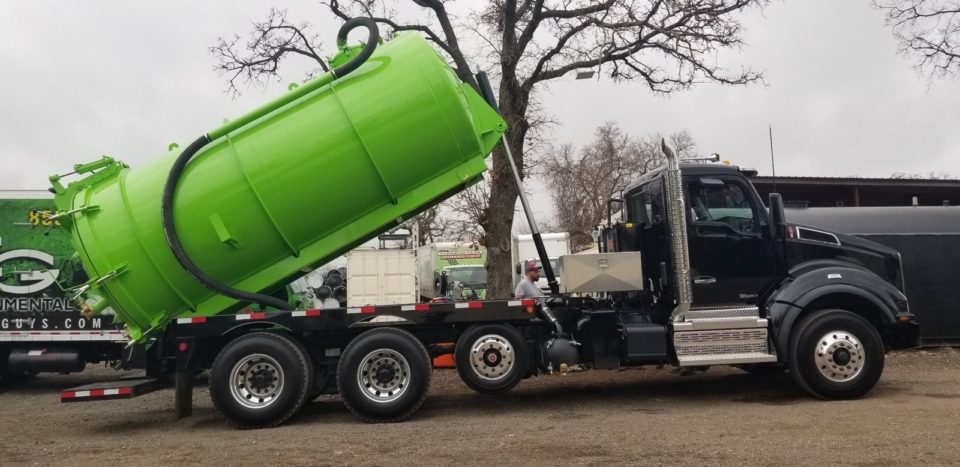 Contact Us to Schedule Service
Do you need vacuum truck services at your commercial or industrial facility? CG Environmental Cleaning Guys is the team for the job. We work quickly and thoroughly to collect any waste material and transport it from your site, leaving your area clean and free of hazardous contaminants. We can even provide environmental remediation to return your site to pre-spill conditions. Contact us today to discuss your waste disposal needs and we'll set up a time to visit your location.
Get Your Free Estimate Today!
24-Hour Response