Skip to Content
Building Decontamination in TX, CO, MO, & OK
Excellence in Commercial Cleaning and Decontamination
CG Environmental – The Cleaning Guys proudly offer world-class building decontamination throughout TX, CO, MO, and OK. From small production facilities and office buildings to large industrial warehouses with hundreds of employees, we have the state-of-the-art technology and industry-leading experience to perform the most effective facility decontamination services no matter the size or complexity of the job. For three decades, our commercial decontamination solutions have a proven track record of satisfying the sanitization needs of various industries and have been used in hospitals, schools, daycares, medical offices, manufacturing facilities, warehouses, retail, restaurants, gyms, and many more. Ideal for high-traffic businesses and facilities, our professional decontamination services provide effective results in helping avoid the spread of coronavirus, colds, flu, viruses, fungus, and bacteria throughout the year.
Custom, Facility-Specific Decontamination Solutions
We firmly believe there's no one-size-fits-all approach to decontamination. Our goal is to create a safer environment for all who inhabit your facility, and our success is measured by the satisfaction of you and your business. That's why we go above and beyond to gain a complete understanding of your specific needs and assess the layout of your facility – which includes establishing where high-traffic areas and high-touch point areas are located. In times when the novel coronavirus COVID-19 still dictates our everyday lives, it's more important than ever to ensure your business can sustain a healthy environment for your customers and employees. As part of our commitment to the communities we serve, CG Environmental provides the highest level of excellence and reliability in commercial decontamination solutions. We'll analyze any existing contamination issues and develop a cost-effective sterilization strategy custom-tailored to the needs of you and your facility.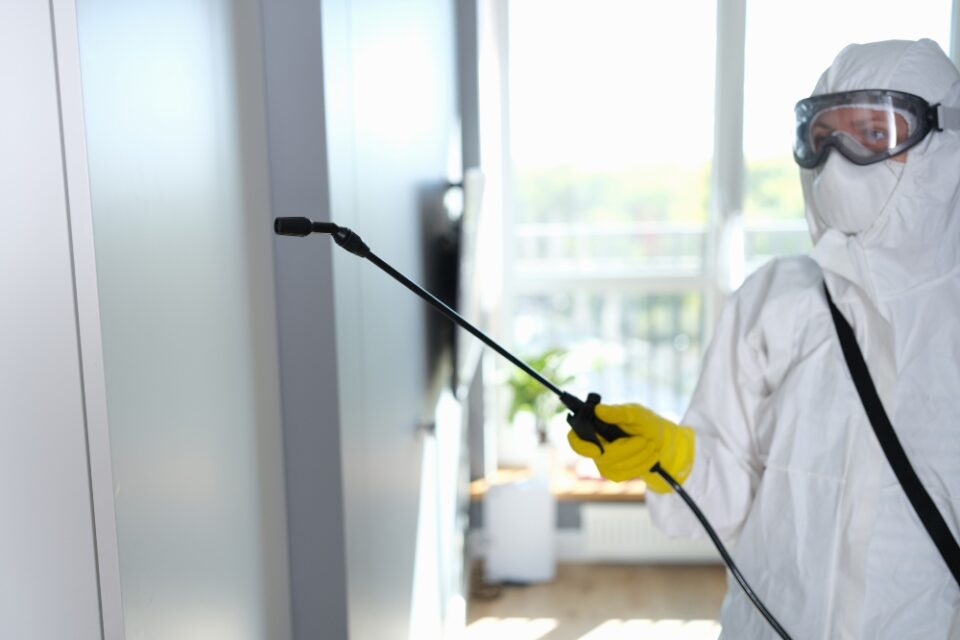 From emergency situations to long-term recurring services, our professional decontamination specialists are highly trained and well-equipped to mobilize and coordinate every facet of the job, from initial walkthrough to successful completion.
Disinfecting Services
Sanitization Services
Deep Cleaning
Hospital-Grade Disinfectants
High-Traffic Area Focus
High-Touch Surface Area Focus
Entire Facility Decontamination
Customized, Facility-Specific Services
Recurring Services Available
OSHA, CDC, and EPA Compliance
Why Professional Decontamination Specialists are Needed
The safest, most effective approach to commercial decontamination is to enlist the service of industry professionals. Our experts at CG Environmental have received extensive, ongoing training and are equipped with the proper equipment to protect themselves from exposure while decontaminating a hazardous area. With deep knowledge and understanding of regulatory standards, occupational hazards, waste management, and monitoring, our specialists are capable of performing decontamination services for a wide range of circumstances:
Heavy Metals and Chemical Decontamination – Areas polluted with hazardous chemicals can be effectively neutralized and decontaminated through our industry-leading tools and techniques.
Entire Facility Decontamination – From small, single buildings to expansive facilities, our specialists can perform effective decontamination and facility closures through the use of high-efficiency particulate air filter vacuums, manual scraping, bleach solutions, pressure washing, HEPA negative hair machines, and manual and chemical cleaning.
Tanks and Process Equipment – Using various methods such as confined space entries into tanks, manually scraping solid chemicals, pressure washing, and cold and hot cutting of steel for tank line removal, we can effectively clean and decontaminate individual tanks and large processing equipment.
Closure of RCRA Hazardous Waste Storage Areas – Closing out RCRA hazardous waste storage areas and storage tanks often requires triple-was and triple-rinse processes, including concrete scarifying to meet state and federal specifications. We provide a full-service solution, including final sampling for closure reporting.
Preventative Deep Cleaning – We have a systematic approach to safety and the ability to customize deep cleaning strategies to perform preventative deep cleanings that adhere to production and OSHA requirements.
Oil & PCB Decontamination – PCB transformers, contaminated transformer pads, high voltage transformer vaults, and manholes are treated with a triple-wash, triple-rinse method and may involve the use of pressure washing and specialty solvents.
Effective Industrial Decontamination Services
Infection prevention becomes more and more critical with every passing day in today's world. Modern workplaces need an effective sterilization and decontamination program that can be relied upon. CG Environmental has developed a proven reputation for providing a wide range of comprehensive decontamination services that effectively neutralize and remove harmful contaminants that pose a threat to employees' health, as well as your business's productivity and reputation. Through our use of state-of-the-art products, highly advanced equipment, training and education, and strict regulation compliance, businesses have a trusted partner in maintaining a quality environment within your facility. Get in touch with us today to learn more about how our building decontamination services can help you.
Get Your Free Estimate Today!
24-Hour Response