Skip to Content
Hazardous Waste Clean-up and Disposal in Texas, Colorado, Oklahoma, Missouri and Surrounding Regions
Complete Environmental Waste Services from CG Environmental
CG Environmental – The Cleaning Guys offer a wide range of hazardous and non-hazardous waste removal services adhering to local, state, and federal regulations.
We specialize in handling bulk-waste projects for materials like liquid, gas, sludge, solid, and semi-solid forms. By ensuring every material is profiled, our advanced waste management team provides the highest quality services.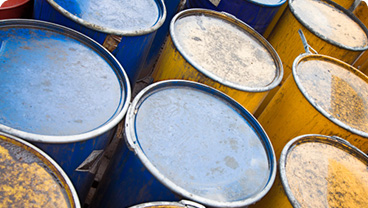 Universal Waste Removal Services
Universal waste disposal is an obstacle for many companies in terms of getting a timely response and ensuring absolute adherence to local, state, and federal regulations. Luckily, CG Environmental offers high-quality universal waste solutions that can reduce your long-term liability while saving you money down the line.
We offer disposal for:
Mercury-containing pesticides and herbicides
Lightbulbs and associated equipment
Paint, regardless of the material
Thermostats
Batteries
Not only can you rest assured that our cleanup services will be thorough, but we ensure your limited liability through proper disposal and transportation methods.
High-quality products for comprehensive waste removal services
By ensuring the proper maintenance of our waste cleanup machines and updating them to align with the newest regulations, we are able to remove any type of waste of any material safely and efficiently. Check out some of the ways we ensure the best cleanup jobs every time:
Vacuum truck services
Our vacuum trucks can operate with any materials, wet or dry. Equipped with high-quality pumps, these trucks can pick up liquid spills and sludge and even perform oil/water separation services. It doesn't matter if your waste is in a drum, a confined space, or underground, our machines let us get every drop.
Ongoing HAZMAT and cleanup training
New ways to effectively clean up hazardous and nonhazardous materials are discovered every year. Once these methods have been vetted to ensure they work and work safely, they can be adopted by waste management companies and even health and safety organizations like OSHA. We always stay on top of the latest technologies and discoveries, so we can offer you top-of-the-line services every time. However, we also ensure our teams receive extensive training on new materials and machinery and they also review waste cleanup procedures on a regular basis.
Recovery trucks
Our recovery trucks enable us to safely assess any disaster site and locate salvageable material and machinery. We can safely transport and clean reclaimable objects from your disaster site. In doing so, we're also able to reduce your recovery costs and maintain as many of your original possessions as possible.
On-Site Industrial Waste Cleaning Services for Fuel Spills & More
CG Environmental – The Cleaning Guys is often called upon to provide on-site industrial waste cleaning services that meet HAZMAT and industry standards. We're capable of cleaning oil and petroleum spills, including gasoline, diesel, and other hazardous byproducts. We can also clean industrial waste spills of all sizes, including those involving sewage treatment and contaminated water or soil. You can rely on our over 30 years of experience to get the job done safely and effectively!
Waste Profiling to Ensure You're Complying with Federal Laws
Waste profiling is one of the most important services we offer, as it ensures companies comply with federal regulations for hazardous waste disposal. Our profiling services keep local landfills well-informed about the types of waste they're accepting and how it needs to be handled. Failure to comply with federal regulations could land your company in hot water with criminal prosecution in some cases. Don't put yourself at unnecessary risk. Rely on our knowledgeable team to profile your waste stream with careful attention and precision.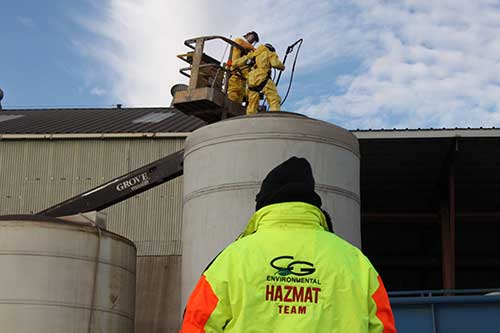 Get a Free Quote for Our Hazardous Waste Disposal Services
When you're looking for a hazardous waste disposal service, you can't go wrong with CG Environmental – The Cleaning Guys. Since 1992, we've made it our business to clean up after ourselves according to industry standards. We serve clients throughout Texas, Colorado, Oklahoma, Missouri and surrounding regions. Contact us today to request a free quote and put our decades of expertise to work for you!
Get Your Free Estimate Today!
24-Hour Response