Skip to Content
Effective Petroleum Services in Texas and Colorado
Get Cleaner Water with CG Environmental – The Cleaning Guys
The team at CG Environmental Cleaning Guys has studied many different ways to help with petroleum spills. Since 1992 we have been developing ways to purify petroleum contact water from local sources. Petroleum can make its way into your primary source of water through many avenues. It can make its way into your water source through condensate from underground and aboveground petroleum storage tanks, water bottoms, vehicle or tanker spills, or drawdown water. It's essential to give us a call as soon as you notice any contamination.
We also help with many other bioremediations and environmental cleanup services. Our experienced staff is knowledgeable and ready to handle your job in an efficient, and expeditious manner. From household hazardous waste to commercial biohazard cleanup, and numerous decontamination services. We do it all to ensure a clean space, free of dangerous chemicals. Call our expert team today and allow us to provide an environmentally friendly solution.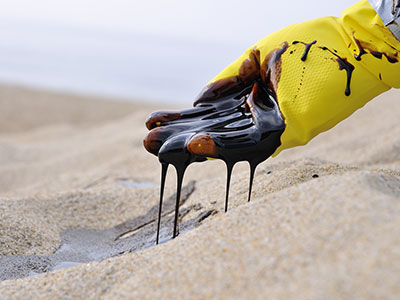 How Does Our Team Mitigate Petroleum contamination?
We begin the petroleum spill cleanup process by first performing an assessment of the land or contaminated soil.  We will attempt to find the origin of the contamination. Once found, we develop a personalized plan of action to mediate the contamination, then dispose of the material in an environmentally safe and legal manner. No two spills are the same, that's why we take special care to ensure our plan of action is tailored to each unique case. Thanks to our many years in the industry and access to state of the art environmentally friendly solutions, modern technology, and the best tools possible, we'll quickly return the environment back to its natural state, free of contamination. We will make certain that all state and/or city permits necessary are secured, then work hard to minimize the damage towards the surrounding area. We will keep you informed through each step of the process. We want you to feel comfortable that the job is completed properly the first time. We are your environmental solution.
CG Environmental – The Cleaning Guys Petroleum Services
What Causes a Petroleum Spill or Contamination?
There are many ways petroleum can get into your water source and there are many ways that water can get into your petroleum storage. For example, there could be issues with your underground storage tanks and pipes. Over the years, the metal encapsulating petroleum will begin to deteriorate and can leak into the soil, and your well. Once detected, our team will get to work quickly to remove the petroleum failed tank and connecting pipes. We will replace these systems with new and up to code products or materials. No matter the scope of the spill or contamination, we're ready to assist.
We Offer 24/7 Emergency Spill Response Services
Call us the moment you discover or detect water in your petroleum tanks or petroleum in your water source. Day or night, whenever an emergency arises, we will come out to assess the situation. Our emergency spill response team is ready and on-call to help throughout Texas, Colorado, Arkansas, Missouri, Oklahoma, or Kansas. We help remove impurities from your water, soil, roadway, and more to prevent any further contamination to the environment. Protecting the environment and your family or customers is our number one priority at CG Environmental – The Cleaning Guys. You can trust us to get the job done right the first time.

Call CG Environmental Now for Environmental Cleaning
CG Environmental Cleaning Guys is the team to call in Texas, Colorado, Arkansas, Missouri, Oklahoma, or Kansas when you need help with environmental cleanup issues and more. Our team of highly-trained and dedicated experts will quickly return your environmental hazard back into a safe space as swiftly as possible. All employees come licensed and insured to give our clients peace of mind. We are professionally trained to safeguard you from lingering issues. Since 1992, residents and businesses all over Texas, Colorado, Arkansas, Missouri, Oklahoma, and Kansas have trusted us to handle any environmental disaster. We look forward to assisting you as well.
Get Your Free Estimate Today!
24-Hour Response